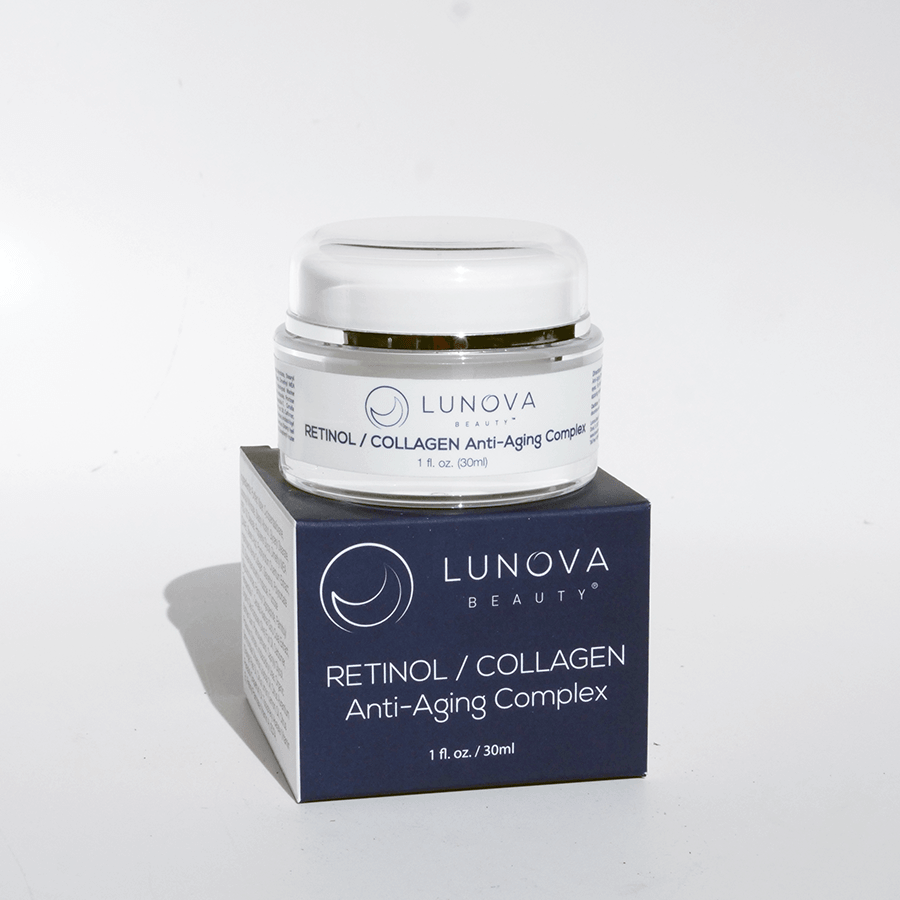 Retinol / Collagen Anti Aging Complex
Lunova Beauty's Retinol / Collagen Anti Aging Complex contains Retinol and marine collagen boosting formula to hydrate and revitalize your skin.
This luxurious, lightweight cream is packed with nourishing ingredients that give your skin a healthy glow. It hydrates, moisturizes, plumps, and fills the appearance of fine lines and wrinkles

The key to beautiful, flawless skin is hydration, which is why the combination of Marine Collagen, Peptides and Organic Aloe, Vitamin C, Vitamin E and Vitamin A is perfect to help your skin retain and remain hydrated.

Infused with Nutrients that boost healthy collagen production (firmer skin) , it naturally plumps your skin to obtain an even and flawless complexion. Vitamin A revitalizes facial areas that have a greater propensity to premature aging and improves skin clarity and tone.

1 fl. oz. / 30 ml.

Key Ingredients
Marine Collagen Peptides
Marine collagen helps increasing skin elasticity. Marine collagen is rich in antioxidants, which fight free radicals and protect the skin from aging.

DMAE
is an organic compound that improves skin tone and increases strength of the skin to reduces the appearance of fine lines and wrinkles.

Organic Jojoba Oil
Deeply penetrates to soothe and soften while providing an excellent moisturizing effect and adding a healthy glow. Jojoba is full of nutrients like Vitamin E and B, as well as antioxidants and minerals like chromium, copper, and zinc, which all nourish and protect skin.

Organic Aloe Vera
Aloe Vera contains antioxidants, enzymes, Vitamins A and C.

Vitamin A
Also known as a form of retinol, is a natural skin moisturizer that helps stimulates production of new skin cells.

Vitamin E
Vitamin E is a powerful antioxidant that may be effective at reducing UV damage in skin. Vitamin E, when applied topically may help nourish and protect your skin from damage caused by free radicals.

Directions
Wash face with lukewarm water and pat dry.

Gently apply Lunova Beauty's Anti Aging Complex under eyes and on crows feet, avoiding direct contact with eyes.

For best results, apply morning and evening.

Let the serum dry before applying makeup or sunscreen.

Ingredients
Purified Water, Cyclopentasiloxane, Isopropyl Myristate, Stearyl Alcohol, Glyceryl Stearate, PEG-100 Stearate, Propylene Glycol, Dimethyl MEA (DMAE), Stearic Acid, Porphyridium Cruentum Extract, Hydrolyzed Marine Collagen, Silanetriol, Polysorbate 20, Glutamylamidoethyl Imidazole, Fructose Oligosaccharides, Palmitoyl Oligopeptide, Palmitoyl Tetrapeptide-7, Centella Asiatica (Gotu Cola) Extract, Organic Olea Europaea (Olive) Fruit Oil, Carbomer, Xanthan Gum, Phenoxyethanol, Caprylyl Glycol, Potassium Sorbate, Imidazolidinyl Urea, Organic Simmondsia Chinensis (Jojoba) Oil, Citrus Aurantium (Orange) Peel Oil, Citrus Limon (Lemon) Oil, Citrus Paradisii (Grapefruit) Oil, Tocopheryl Acetate (Vitamin E), Retinyl Palmitate (Vitamin A), EDTA.