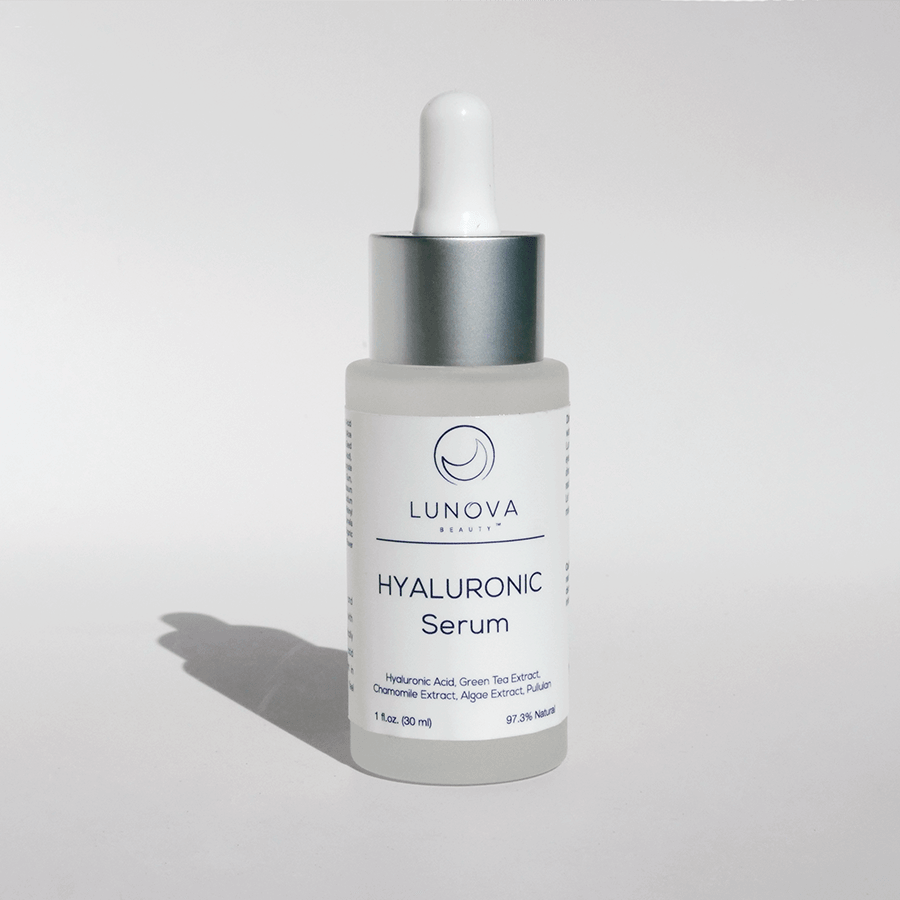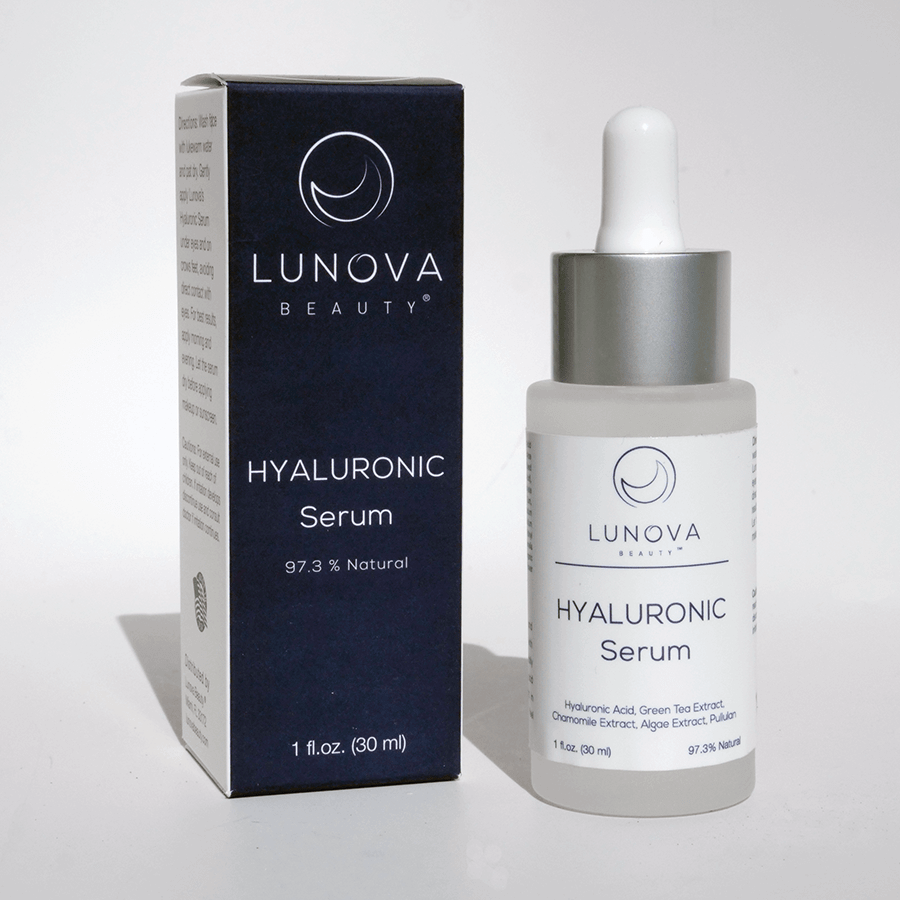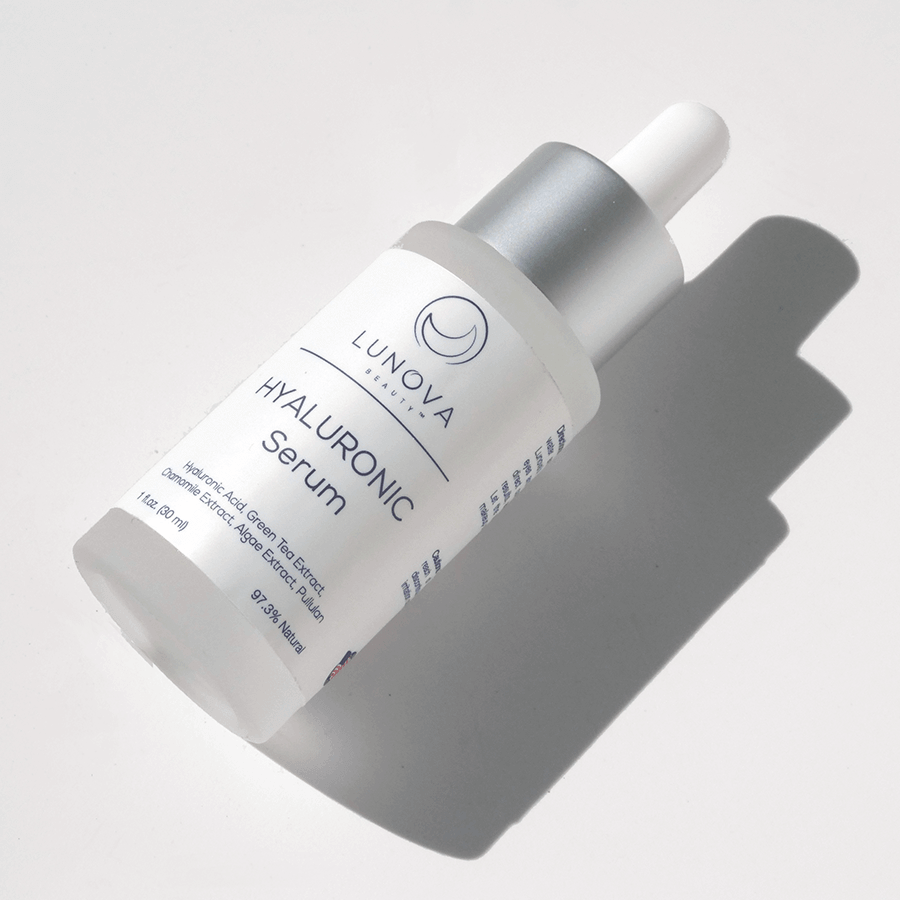 Hyaluronic Serum
Lunova Beauty's Hyaluronic Serum will smooth fine lines and boost your skin's hydration with our natural and organically derived serum! Hyaluronic acid holds 1,000x times its weight in water. So, get ready to feel refreshed!
Organic and Natural: This lightweight serum is packed with nourishing ingredients that plump, hydrate and bring a healthy glow to your skin. 

Moisturizes and Hydrates: The key to beautiful, flawless skin is hydration, which is why the combination of Organic Aloe and Hyaluronic Acid is the perfect formula to help your skin retain and remain hydrated. With Lunova's Hyaluronic Serum, you're infusing your skin with important vitamins and nutrients that it needs to stay hydrated and look smoother.  
Gentle and Effective: This Face, Chest, and Neck serum uses fast-absorbing and lightweight, ingredients that nourish, moisturize and smooth your skin, diminishing the appearance of fine lines and wrinkles.
1 fl. oz. / 30 ml.  
Key Ingredients
Hyaluronic Acid
Hold 1000 times its weight in water. Hyaluronic Acid visibility reduces fine lines and wrinkles while retaining moisture, creates a plumping effect.
Organic Chamomile
Packed with antioxidants, helps lighten dark spots, protects the skin from free radical damage, soothes and calms the skin.
Organic Aloe Vera
Aloe Vera contains antioxidants, enzymes, Vitamins A and C, and it is an anti-inflammatory.
Organic Green Tea
Stimulates the skin and reduces the signs of aging. Controls oily skin, has anti-inflammatory properties, Vitamin B2 and Vitamin E, which has high collagen levels for youthful skin firmness and supports new skin cell growth. It also is an intensive hydrating agent.
Algae Extract
Algae Extracts have the ability to instantly hydrate and condition the skin. Algae is also an antioxidant, meaning it protects your skin from free radicals that cause premature aging.
Pullulan
Has an instant skin-tightening effect as it adheres to the skin. It has the ability to quickly form a sheer film that temporarily improves skin's texture and appearance.
Vitamin C
Has great antioxidant properties that help neutralize free radicals, evens out skin tone, and brightens the skin.
Vitamin A
Also known as a form of Retinol, is a natural skin moisturizer that helps stimulates the production of new skin cells.
Directions
Wash face with lukewarm water and pat dry.
Gently apply Lunova's Hyaluronic Serum under eyes and on crow's feet, avoiding direct contact with eyes.
For best results, apply morning and evening.
Let the serum dry before applying makeup or sunscreen.
Lunova Beauty only uses top-quality ingredients; which makes it great for all skin types and can be applied before your makeup. 
Ingredients
Purified Water, Hyaluronic Acid Complex [Organic Aloe Barbadensis (Aloe Vera) Gel, Glycerin, Cassia Angustifolia Seed Polysaccharide (Botanical Hyaluronic Acid), Oleth-20] Acrylates/Steareth-20 Methacrylate Copolymer, Dimethyl MEA, Xanthan Gum, Phenoxyethanol, Caprylyl Glycol, Potassium Sorbate, Imidazolidinyl Urea, EDTA, Sodium Ascorbyl Phosphate (Vitamin C), Retinyl Palmitate (Vitamin A ), Organic Camelia Sinensis (Green Tea) Leaf Extract, Organic Matricaria Recutita (Chamomile) Flower Extract, Algae Extract, Pullulan.
Cautions
For external use only.
Keep out of reach of children.
If irritation develops discontinue use and consult doctor if irritation continues.